"Fashion Styling Tricks That Flatter Your Apple Body Shape.
Let's Camouflage that Waist with Structure!"
So what does it exactly mean to have an Apple Body Shape? It means that you appear top heavy. You have a full chest and upper back with little or no waist definition.
Most women who carry extra (or excess) weight around the torso and appear full around this area belong to this group.
Here are other characteristics typical of an Apple shape:
You carry weight around your mid-section and chest (eg. big bust, protruding tummy).
Your rib cage and and back appear somewhat wide
You may have wide or/and fleshy shoulders
You probably have fabulous legs and boobs (you may be well endowed)
Your waistline is undefined or has little waist definition
Your hips may be narrow (similar to Inverted Triangle, but your midsection is fuller/wider)
You have slim limbs (specifically arms)
However, if you are small chested you most likely carry most of your weight around the midriff.
Together with Rectangle body shapes you both lack waist definition, and along with Inverted Triangle body shape you both have a top heavy upper body and share similar styling guidelines.
If you have gained weight or given birth recently then you are most likely an Apple. However you can be thin but carry most of the (healthy) fat around the abdominal and be wide at the rib cage.
Basically, if you feel that you carry most of your waist around the midriff and bust then follow the Apple body shape guidelines!

Be open for a secondary body type
You may not exactly be an Apple, so you probably have a secondary body type.
There are different varieties of the Apple body shape. You may have curvy hips, leaning towards an Hourglass – or maybe you have have a bust and hips that are approximately at the same width that need some of the styling tricks from the guide for Rectangles.
So try to be flexible and follow the guidelines for both your primary and secondary body figure!


High 5! Join them Team!
Famous Apples: Rosie O'Donnell, Oprah Winfrey, Dolly Parton, Catherine Zeta-Jones, Angelina Jolie
Let's take a closer look at the styling tricks and fashion advice for your Apple body shape:
How to Dress Your Apple Body Shape
You share the same closet and outfit strategies as Rectangles which is to trim and define your waist. But if you carry extra weight around the midriff (which most Apples do) the goal is to skim over that area. That's why structured garments are your best bet – simply, because they hold in and camouflage the extra weight.
Your abdominal and torso are in general your biggest body issues, so you'll need to focus on de-emphasizing this area as well as accentuate your best bits. In many cases of Apple shapes, these bits are your breasts and legs.

Disclaimer: Have in mind that these guidelines are general and based on your horizontal body shape (the shape of your waistline). If you want the ultimate guide to dressing your body figure, including your figure flaws, bust size, height and so on I suggest that you look into the My Private Stylist program.

Also, if your vertical body shape-guidelines seem to contradict with my fashion advice for your horizontal figure, then you need to look at your body proportions as a whole.

Here are the basic strategies you should have mind when putting together an outfit or updating your wardrobe:

Trim the Waist

Wear clothes in a way that makes your mid-section narrower. This will help you achieve a proportional body shape and visually take 10 pounds off your figure. Adding interest to your shoulders and neckline, along with adding volume to your hips help.
Examples of waist trimming styling:
Dark colored wide belts (however if you are very full and heavy around the waist, a wide belt made out of stretch material is recommended)
Clothes that skim past over your midsection but nip right below your bust (eg. empire line, long tops, tunic shirts) lift your chest and make your waist look trimmer
Add more volume and structure to your hips (prints, full circle skirt, bias cut skirts, etc.)
Shapewear, especially waist cinchers will do the trick in an instant.
A good push-up bra lifts up your bust
You can experiment with various textures and details, but be careful with their placement on your body frame. Compared to solid colors – patterns and texture with a dark base are great for camouflaging. Keep your waist free from details that widen and highlight (eg. light colors, horizontal details, etc.)
Focus on woven garments because their rigid fabric helps skim the contour of your midriff. So avoid clingy jersey knits! Weighty jersey is an exception though but needs to be placed on the right areas such as your hips to help balance out your upper body.

Flaunt Your Best Assets
This helps draw attention away from the midsection and give the spotlight to your best parts, and in most Apple body shape cases that's your bust and/or legs.
How to do it:
Low-ish neckline. Low v-necks are especially (universally) flattering on your body frame, and making your torso look slimmer at the same time. It draws the eye up and down, instead of from side to side.
Details on the hemline to bring attention to your legs
Tops with sleeve details such as slits and gathers to accentuate your upper body and pretty arms
When wearing jeans or pants, make sure the top extends just below your hipbone to draw attention away from your midriff.
Other Factors to Consider
Your horizontal Apple body shape along with vertical body figure (are you short-legged/long waisted or short-waisted/long egged?), height and body scale are important factors to consider when dressing your body shape.


If you for example have a short waist you'll benefit from wearing long tops that visually elongate your waist because it'll slim your midsection. On the other hand, if you have short legs, focus on your lengthening your legs with simple bottom styles or pair a long top with a short and structured jacket.
Also, if you're Petite or a Plus size then some rules may have to be customized.



Now over to clothing recommendations that complement your Apple body shape:
Your Best Clothes
If you're a thin Apple body shape you'll be able to dodge past most of the restrictions but your main closet strategy is to trim that waist. So wear clothes in a way that minimizes and make your waist appear thinner.
Dresses Skimming Past Your Midsection
Dresses that skim down over your midsection without clinging.

Examples are:
Empire waist
Bias cut hem
Wrap styles tailor your midriff by visually lifting up your bust
Low'ish necklines that slim your upper body and draw the eye up and down
But make sure the dresses highlight your bust to balance out your frame and keep eyes away from your tummy. A low neckline alone will often do the trick.
Your best dresses also feature:
Shoulder, neckline and sleeve details
Structured shoulders to keep the eye on and above your bust
A hemline that flares outwards to balance out your top heavy body, such as an A-line
Tip: Experiment with a belt to find your sweet spot. Usually, the thinnest part of your waist (above the natural waistline) is the most flattering area for your Apple body shape to wrap a belt.
Tops with Embellished Neckline or Shoulders
Fashion tops and dresses with embellishment around the neck and shoulder area to keep the attention to your bust and your slim limbs.

Examples of your ideal top details:
Embroideries and other pretty shoulder details (eg. sequins)
Flare sleeves
Cuff sleeves
Slits and cut outs (they slim Inverted Triangles shoulders but will attract attention to your pretty arms)
Embellished necklines
Gathers and ruching
Avoid waistline details such as beads and bows, and even skinny belts (the thin look make your wide waist look bigger in comparison). However invest in medium stretch wide belts – they pull in the weight nicely without bulking.
Always make sure to wear necklines that "open up" your chest and face. Looks very flattering on your heavy torso.
You can also wear simple tops, but you might want to define your waist, slim your torso and create an illusion of an Hourglass body shape – by pairing them with a structured (and nipped) jacket. Avoid jackets with sloppy shoulder-line and make sure they're snug on the shoulders.


Pants and Jeans Styles that Complement Your Heavy Top
Jeans and pants that will bring balance to your top heavy body figure – specifically a hem cut that widens from either your thighs or knees.
Examples are:
Flare and wide leg Bootcut

Skinnys and tapered styles are tricky on your Apple body shape because they'll accentuate your thin legs and make you look bigger on top. A slight flare adds balance.However another alternative to skinnys is straight cut pants worn with a pair of eye-catching shoes. You can wear skinnys as long as you add knee high boots (that's because the boots add volume).Normal to high rise with a flat front will help keep your belly and midriff in place and avoid bulking up. Avoid pleats or ruching on the front of your pants rise, and look for styles that add volume to the sides of your hips and around your thighs.
Longer Skirt Hems
Right above the knee, knee and calf length skirts. Short skirts will only highlight your midsection and make you look blocky.
Your best skirt styles that draw attention to your legs are: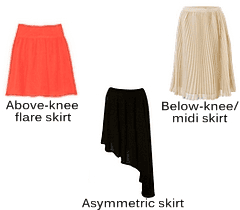 Bias cut
Asymmetric
Hanky hems
Trumpet skirts
Structured pencil and A-line skirts
If you're petite, stick to right above the knee lengths or add a pair of heels to avoid overwhelming your short height.
Short skirts are recommended for petites, but will emphasize your apple shape – so try putting more effort in your top by visually elongating your torso with shoulder details.


Long Tops
Long tops that float away from your waist – hip-length tops and tunic shirts. They help balance out your Apple body shape.
Unfortunately, frills aren't your best friends because they add too much volume. But simple draping fabric (eg. waterfall tops) will have a slimming effect on your mid-section.
If you have short legs, long tops will shorten them, so add heels.
Long tops with structured shoulders are your best bet but aren't an absolute necessity if you can put more work on other areas of your body shape. A structured jacket on top of the long top helps balance it out.


Structured Jackets and Coats
Preferably hip-length to skim past your midsection and balance out your frame. Buttons should be below the bust to trim your waist.
Also, nipped waist, V-shaped lapels, and a V-neckline look best on you.
Also make sure that your jackets are single-breasted. Too much details such as double breasts accentuate your midsection.
The best and simplest way to camouflage your heavy midriff is to layer whatever top you are wearing with a structured jacket or coat. This draws attention away from this area and create curves on the right places such as your shoulders and chest along with your hips. So invest in tailored blazers and coats!
Wearing your jacket open will trick people into thinking that there's a tiny waist hiding in there. Looks slimming and streamlined. Although cardigans and waistcoats aren't structured, leaving them open helps disguise your midriff.