Got an Hourglass Body Shape? Well, you're in luck, because it is considered the most ideal body shape! Out of the 5 silhouettes, the hourglass has the best proportions – with upper and lower half approximately in line with each other, along with a defined waist.
Compared to for example an Inverted Triangle or Pear shape, you've got the curves on all the right places!
Here are other characteristics typical of an Hourglass body shape:
Your full hip-line and your full bust-line are the same width
Your waist is defined
When you gain weight, the fat usually stores evenly throughout your well-proportional curves
Another way to figure out if you're an hourglass is to measure yourself. Your waist should be 8″ to 12″ smaller than your hip or bust measurements. This is the minimum in an image consultants book.
Be open for a secondary body type
You may not exactly be an Hourglass, so you probably have a secondary body type.
There are different varieties of the Hourglass body shape. You may have slightly fleshy upper arms which makes your shoulder-line look wider which makes you lean a bit towards Inverted Triangle.
Or maybe you have a slightly fuller bottom that needs some of the tricks from the guide for Pears.
So try to be flexible and follow the guidelines for both your primary and secondary body figure!
The reason why your body shape is considered ideal is because of its proportions and defined waist. It sounds rather shapist of me to say but it's true! This is the silhouette fashion stylist strive to create on their model. Having the curves on the right places indicates femininity and is appealing (sells better) to the eye.
High 5! Join the Team!
 Famous Pears: Megan Fox, Salma Hayek, Scarlett Johansson, Halle Berry, Kate Winslet, Jessica Biel, Kelly Brook, Marilyn Monroe
Yes they all come in different sizes – you can be a skinny, average or curvy hourglass. And no, you don't need to have a big bust to be an hourglass! It's all about that trim waist of yours.
How to Dress Your Hourglass Body Shape
Even though you have the classic body figure you still might want to review my fashion advice on how to bring out the best in your body shape, and flaunt your waist!
 Disclaimer: Have in mind that these guidelines are general and based on your horizontal Hourglass body shape (the shape of your waistline). If you want the ultimate guide to dressing your body figure, including your figure flaws, bust size, height and so on I suggest that you look into the My Private Stylist program.

Also, if your vertical body shape-guidelines seem to contradict with my fashion advice for your horizontal figure, then you need to look at your body proportions as a whole.
Your body shape is much easier to clothe than the other shapes, but you still need to make sure that you avoid anything stiff and that makes you look boxy!
Your best investments are clothes and accessories that accentuate your proportional body figure by using your waist as a focal point.
Now here are some styling strategies to use when you're putting together outfits:
Your Waist as Focal Point
Wearing anything that wraps snugly around the thinnest part of your waist or draws attention to this body part can really bring out your perfect proportions.
Waist accentuating details such as:
Voluminous skirts (including the bottom of dresses) such as a full circle or tulip skirt, because they make your waist even smaller. However A-line and pencil will also look flattering on you, and are best on curvy hourglasses
Nipped waist tops, dresses and jackets
A dark colored belt wrapped around the narrowest part of your waist
Soft fabrics such as knits and drapey silk blends, as well as fabric with a bit of stretch, to really accentuate and complement (flow with) your curves. So avoid anything boxy such as a straight skirt style as well as stiff fabrics
V-necks and other low'ish necklines. Your curvy Hourglass body shape needs this slimming neckline. This is especially if you are well endowed
If you have a muffin top and don't dare to wear anything fitted around the waist, wear clothes that skim past the area and make sure you add some interest on top and bottom to make your waist look thinner.
Make sure to keep your top relatively simple and smooth to complement your feminine Hourglass body shape. If you want to wear a ruffle or detailed top, or a funky necklace, you've got to be careful with their placement on your frame.
Downplay Your Curves
I've met Hourglass-shaped women who didn't like their curves (tiny waist and bigger bust and hips). They prefer to look thin and tall, and some also favor the athletic silhouette with strong shoulders.
Here are some tips and styling tricks that downplay your curves:
Wear a dark color monochromatic outfit
Focus on clothes with vertical details such as pleats, vertical prints, buttons placed downwards, etc.
Straight and bootcut pants and jeans that hug around your hips
Add heels to elongate your legs
Wear a low'ish neckline to slim down your torso
Wear tops that extend just below your hipbone or past the thighs. To avoid adding width to your legs and hips, wear leggings with these long length tops
Got some extra weight? Try wearing a body shaper underneath your clothes. Shapewear is celebrities favorite look-hot-and-trim in a snap accessory for special occasions 🙂
Yes, if you have a very defined waist along with a short height, the wrong garments can make you look stumpy. My advice is to simply focus on looking taller and slim down your curves with the following fashion advice:
Guide for Petites – How to Look Taller
Guide for Plus Size Women – How to Look Leaner
Other Factors to Consider
You may have the ideal body shape but you must also take your vertical proportions (short legged/long waisted or long legged/short waisted?) in consideration as well. Some clothes can shorten your legs and make you look shorter and wider. Or if you're a Petite or Plus Size, some extra outfit strategies may have to apply.
Just a warning: If you have short and/or curvy legs I recommend adding heels, especially if you're wearing skinny pants. Shortening the legs of an hourglass body shape make them look frumpy and you'll appear more of a Pear.
Now over to specific clothing recommendations that complement your Hourglass body shape:
Your Best Clothes
Waist-Defining Dresses, Tops and Jackets
Nipped and belted sweaters, jackets, tops and dresses look elegant on your hourglass body shape.



If you want to de-emphasize your curvy hips (which often come with an Hourglass body shape), look for tops that extend right on your hipbone. This will help skim over the curves and make you look thinner.
Stick to tailored jackets (preferably with a single breast if you are well endowed) and defined V-necklines. Also, wearing your jackets unbuttoned looks slimming and elongating.
Wrap Tops, Sweaters and Dresses
Wrap (over) tops, sweaters, shirts as well as wrap dresses – they create a smooth and sexy silhouette, adding a flirty touch to your waist as well as tailoring your midriff without making it look boxy.

If you have a short waist and/or are petite, the wrap will most likely hit on the wrong area of your waist. So I advise you to head to the petite section or have a tailor alter it for you.
Bust-enhancing and Slimming Necklines
Bust-enhancing necklines add a pinch of zest to your silhouette – enhancing your feminine, Marilyn Monroe'ish body figure. Yes, even if you don't have a big bust.

Examples are:
Scoop neck
Sweetheart
Bustier
If you want to slim your upper body and fully flatter your upper torso, wear a V-neck. It will also draw the eye to your waist and showcase your great proportions.
Also try other slimming necklines such as:
Open shirt collars
V-neck halters
Cowls
Have in mind that wide necklines such as boatneck and square can widen your bust and shoulder area and make you appear heavier. Boatnecks look best on small to medium busts and with an average to long neck. However a long pendant necklace and oblong/V-shaped pendants and earrings can help make a high neckline look flattering.
Bottoms that Streamline Your Bottom
Bootcut, flare and wide leg jeans and pants – they look universally flattering on all body shapes, but they look extra elegant on yours. A slightly flared cut will also help balance out your curves.

Examples of ideal bottom styles:
Wide and flare leg
Bootcut
Straight leg and pencil skirts if you're comfortable with your curves
A-line skirts (they need to be shaped around the hips) and dresses
Skinny jeans will emphasize your curves and can make you look shorter, however if you have long and lean legs or add a pair of heels then you'll be fine!
An A-line top with the skinnys look flattering on you without creating a too-curvy, stubby body frame. An alternative would be straight leg pants which is the closest thing to skinnys.

Other bottom details to look for are:
Flat-front
Mid-rise
Wide waist-band
Fabric with a bit of stretch for comfort and a flattering look on your curves
Belts
Waist belts – both skinny and wide belts – are your secret weapon for bringing out the best in your Hourglass body shape. They should be worn around the thinnest part of your waist to show off your hourglass figure.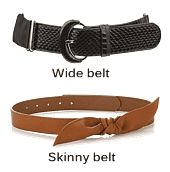 If you have love handles or extra weight around your tummy, stick to belts with a slightly elastic material. Thick materials tend to add bulk and emphasize your cute pudge.
To avoid the extra midriff bits from spilling over, wear the belt with a woven top or dress. Don't worry about the slightly rigid (stiff) fabric – it'll conceal your midriff and the belt will keep the outfit from looking boxy on you.
If you have a short waist, make sure the belt has a similar hue (eg. black with dark navy) as your top to help you maintain a streamlined, lean silhouette.
Peeptoe Shoes
Peeptoe shoes (especially high heels) will give you instant glamour and complement your sexy Hourglass body shape.
If you're bothered by your curves a pair of high heels will visually elongate your legs and make your hips look slimmer.
Because of your curvy hips, your thighs and legs need shoes that are simple to visually lengthen your lower body. So avoid ankle straps (however, T-straps are slimming) or details that visually shorten your legs.

Ideal shoe styles and details:
Shoes in similar as your skintone
Cone heel
Wedge heel
Open toe to elongate your legs