Warm Winter Coats in Casual Bohemian Style
by B.
(United States)
Do you have any suggestions for warm winter coats in
the casual bohemian style?



Hi B.,

if you want a casual bohemian winter coat goes with everything then I suggest that you look for solid colored styles along with flowy and/or earthy details such as:

Faux fur lining
Draping (oversized collar, see image)
Cocoon hem
Wide sleeves
Toggle buttons
Here are a few examples from various online fashion stores (just click on the pictures to get to the product page):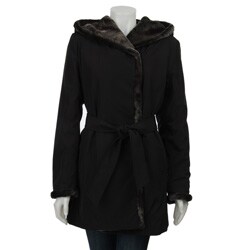 Calvin Klein Reversible Wrap Storm Coat



Allen Scwartz Swing Coat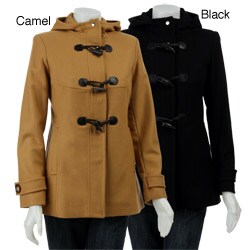 Michael Kors Hooded Toggle Button Coat




Black Twill Coat with Oversized Neck




Grey Belted Cocoon Coat

However if you're looking for something with boho print then you should head to your local thrift or vintage store and see if they have anything from the 60's that looks "hippie'ish". Paisley print is an example of this.
I also recommend
www.ModCloth.com
. They have a nice selection of vintage boho-looking coats as well. PS: Get 10% Off by entering code "Affiliate10" at their online store.
Hope this helps! And thank you so much for your kind words!
Sincerely,
Products you may be interested in:
Return to Trendy Womens Clothing - Buying and Wearing Different Clothing Types.
How to Look Trendy in a Fur Vest and Orange-red Trenchcoat
by Lola M
I have a purple faux fur vest (it looks black in dark light but purple when it's sunny outside) and a orange/red trench coat.

I am 19 and I would like to make my look collegeish... but trendy, and I have been doing well with the rest of my wardrobe but, these two pieces stump me.

I was hoping you had suggestions on what to wear with these :) thanks so much!



Lola,

I have to be honest and say that the short faux fur vest was a not so good investment ;) Purple faux fur isn't as versatile as black and beige/brown hip length vests. So before you buy a trendy clothing make sure that you can wear it with at least 3 (5 is even better) other garments in your wardrobe.

One basic rule of thumb when it comes to difficult-to-mix pieces:
Either balance it out or tone down the piece. This is especially important if you're in college (you don't want to look too 'haute couture' when sitting in class with a bunch of other students wearing sweats, he he). So combine it with something solid colored and/or simple.

Here are some ideas for what you can wear with your purple-black faux fur vest:

How to Wear a Faux Fur Vest
Wear it with a boho print dress
Very boho-glam, especially with an exotic print. The fur takes it to another level.
Faux fur vest from Free People
Wear it with a neutral and solid colored tunic top or jersey dress (for example black, white, dark gray)
For a glam evening look, pair it with a fitted turtleneck
sweater dress
.
Or for an everyday fall outfit simply wear it with a
tunic shirt
and a pair of skinny denim jeans.
Vest from Yes Style
Works well with both short and long sleeved tees
Tone it down a bit extra with dark wash jeans or black skinny jeans.
What to Pair With an Orange-Red Trench Coat
As for the orange-red trench coat, achieve a chic look by pairing it with black ballerinas and flat ankle boots and go bare-legged (if you're allowed to in school). This combo also looks good with black leggings and flats with a cute toe ribbon detail.
Courtesy of wireimage and WENN
Note:
Wear the trench coat as your centerpiece and build your outfit around it. Avoid adding accessories that compete with this fun and bright color.
Hope this helps!
Products you may be interested in:
Return to Trendy Womens Clothing - Buying and Wearing Different Clothing Types.
More Shopping & Chic Inspiration at the TCF Blog:
Also check out the Style Makeover Shop!
Back to Top
---