Going Away to Different Climate for Christmas: Need to Buy New Clothes
by Susan Thompson
(Pompano Beach, FL)
I am going to Spain for the Holidays for 25 days where temps are between 40-55 degrees. I need help/ideas to purchase items that I can combine and get versatile wear out of during my vacation. Please help!

I live in South Florida where it's basically hot year round, so my wardrobe doesn't change much. I do not own a coat, boots, etc..

I am 39 years old 5'9" and 145 lbs, size 8, I have 2 little kids - so I want to look great fashion wise but also keeping in mind that I'll be chasing after the kids most days.

I'll also need 2 evening/party outfits.

Please help me to decide what I should purchase and outfit ideas....

Also I need the same help for my boy, girl and husband - if you have ideas or places to shop...

THANK YOU!



Hi Susan,

since you need new clothes for only 25 days I suggest you buy clothes that are basic and easy to combine.

Thick woolen clothes aren't necessary (I've been to Spain a couple of times during the Holidays. The temperature is mild during the day but drops in the evening) but you might want to focus on layering your clothes with a scarf, hat and/or t-shirt and thin sweater.

I'm sure you already have plenty of basic short sleeve and long sleeve t-shirts and tops in your wardrobe. You can save money by pairing them with a warm woolen cardigan and/or turtleneck sweater. You can wear jeans with them as well.

You can simply update your summer clothes with cardigans, pants and other winter accessories.

Here are some suggestions on what clothes you should get for you and your family:

Note: This is not a complete list. The items mentioned here are clothes you should get to create a versatile and solid Holiday wardrobe.

You:


Cable-Knit Tie-Front Cardigan/Old Navy

Pullover sweater (wool blend)
Cardigan v-neck cardigan (wool blend). Pick a cardigan with a belted waist if you want to look extra feminine and stylish
Cowl or turtleneck sweater (wool blend)
Lightweight cotton trench coat (wool blend)
Two wool scarf (black and dark brown work with all color schemes, but feel free to add a splash of color)
Flat leather boots in dark brown or black (or with a little bit of heel if you want to look classy. Ankle boots might be more comfortable than knee highs if you'll be walking a lot)
Black cocktail dress (I prefer a wrap dress as you can wear it both casually and formally)
Black pumps (works with anything, you can also wear them back home)
A wide belt to spiff up your outfits. Look sbest when worn around the waist
For your evening/party outfits I suggest a simple black wrap dress which you can dress up with a silk scarf, jewelry of your choice and a pair of pump shoes in black. You can also wear this dress as an everyday outfit by adding a pair of opaque or
wool tights
, camisole to elevate the neckline and a trench coat (and scarf if needed).
Your other evening outfit should consist of two pieces - a black skirt and a nice blouse. An A-line skirt (slightly flared hem) is a classic cut that looks good on all body figures. Pair it with a dressy blouse or top that you already own and add jewelry and the pump shoes.
For more outfit combinations
, check out this
page
about a woman wearing the same dress stylishly for a whole one month!
Husband: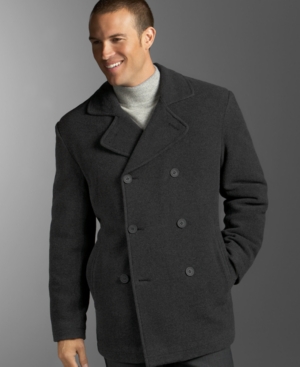 Kenneth Cole Reaction Jacket, Eden Pea Coat/Macy's



V or crew neck sweater (wool blend). Crew neck is very versatile but a V-neck looks most flattering on all body shapes. Plus it looks best when layered with a dress shirt
Dress shirt in his prefered color. Pair it with a cardigan or v-neck for a casual yet classy look. Or wear it alone with black dress pants for a sophisticated evening look
Turtleneck sweater (wool blend)
Lightweight cotton pea or trench coat (wool blend)
Two wool scarf (black and dark brown work with all color schemes)
A pair of dress shoes for evening
A pair of comfy casual shoes with laces of his choice
Black dress pants
Loose khaki pants


Your two kids: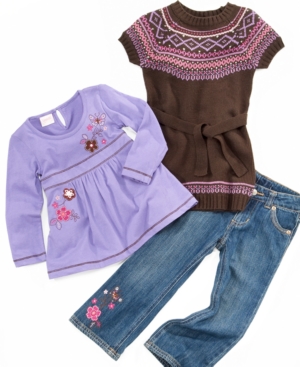 Tunic Sweater Set/Macy's

Basics such as pullover and cardigan hoodies, cargo pants, wool scarves, low top sneakers and long sleeved tees (which you can layer with the sweaters). If you have girls then I suggest buying a couple of sweater dresses (turtleneck, babydoll, etc.) along with wool tights and slip on shoes.
PS: Macy's are selling economically priced sweater and pants sets
Shopping recommendations and inspiration:
Old Navy
-- offers lots of stylish clothes for women, men and kids at bargain prices
Macy's.
-- offers stylish clothes for the whole family at affordable prices. You can get free shipping with $99 purchase by using Promo Code: THANKS. Valid 11-24-2009 through 11-28-2009
Zappos
-- wide selection of quality shoes
Payless
-- for low-priced shoes
I advise you to check out the
wardrobe essentials-section
for more suggestions. It gives you an idea of what type of clothes are versatile enough to combine into multiple outfits.
Hope this helps!
I wish you a great trip! :)
Sincerely,
Products you may be interested in: