How to Achieve French Style In a Sophisticated and Casual and Sexy Way?
by Heidi
(Singapore)
I am a seventeen-year-old Asian girl, 171cm, skinny hourglass, honey-toned skin with black hair.

I read many about dressing in a French way but I just can't make myself look really French. People said I dress like a 25 year-old rather than a 17 year-old. How can I dress like French women (sophisticated, sexy, fresh, stylish, elegant...) for my age?



Hi Heidi, if people are saying that you dress older than your age then you're half-way through to achieving a French fashion style :-)

Here are a couple of fashion pointers to help you achieve a French fashion look:

Your Color Palette
I'm assuming that you're either a
Deep Autumn
or Deep Winter, which means that your color palette is deep, warm and exotic - most of the colors are 'perfect' for that chic, alluring and mature
French look
(they wear a lot of neutrals, deep colors). Invest your money in these colors.
Deep Autumn palette
Deep Winter palette
The Accessories
Oversized sunglasses
, flat pumps, tailored
blazers
and
wide belts
are just some of the things that can help you achieve a French look appropriate for your age (you don't want to look
too
sophisticated though - you're 17 and that's the perfect age to have enjoy being a teen and have fun with your style). However I encourage you to mix it up a little to create a more unique style that is you - at your young age, I suggest adding trendy pieces from the
current fashion trends
for a fresh look.
Your Clothing Personality
You need to decide
what kind of French look
you want to go with - you can for example do a girly glam French look (like your local blogger celeb Dawn Yang) or a casual approach like Rachel Bilson. It's all up to your personal taste. You can for example combine a super trendy print top with a boyfriend blazer and add a pair of wedge sandals to look feminine and chic.
Analyzing your personal clothing style can also pinpoint you to how to create a unique look by mixing several styles in one.
I also believe I have answered a question similar to yours here:
How Do I Dress Like a French Woman?
I hope this helps!
Products you may be interested in:
Return to Fashion Inspiration, Styles and Trends - How To's and Ideas.
French Fashion and Clothing: How Do I Dress French?
by Victory Choden
(Bhutan)
I recently read the French clothing and French fashion tips on your website and I'm so madly in love with it.

I'd like to learn some more tips on how to dress French, like what pieces I would need or the color combinations, etc.

Please tell me everything you know. I've tried to look it up on the internet but I couldn't get any good results. I go to highschool.

Keep up the good job!!! I absolutely love your website.

Cheers,
Victory



I'm glad you like the French fashion and French fashion-section! I spent many days, researching and formulating what French fashion really is. I still tweak and add info to the page :)

Most of your questions have already been answered and mentioned in the French fashion-section, however I'll do my best to boil it all down into practical bits and pieces:


French Fashion Colors and Combos
Black, beige, cream, brown, navy blue, gray, deep tomato red, deep purple, muted greens, reds and purple.
The beauty with these colors is that they're very versatile in trend and season, so they can easily be combined together without making you look like a clown.
Popular "French" outfit color combos:
Black, white, grey
Black, cream and white
Red, black, cream/or grey
Navy blue, cream, black
French fashion is about balancing the colors in your outfit. Make sure that you don't leave one part of your body more brightly colored than the other. Spread the colors evenly throughout your whole outfit :)
Here's an example is: Wearing a boho tunic dress, tone it down with tailored black boots and balance it out with black sunglasses and a black bag.
August 2011 Update: You don't have to conform to an 'even-spread-colored' outfit anymore. Today's fashion is more about expressing yourself - so don't be afraid to wear a bright and bold clothing as a focal point in your outfit!
I've rarely seen French women wearing more than 3 colors in one outfit. I think it's part of their chic sense of style.
Must-own "French" Fashion Pieces
Definitely tailored and simple pieces, such as slacks, blazers, cardigans, dark wash bootcut or straight jeans/pants, crisp white shirt/blouse, tailored office work bags (think Birkin bag), etc.
Here are my personal "French" essentials:
- A big leather hobo bag in a solid color and minimal details
- Black hosiery such as black leggings and opaque tights. They're the perfect accessory for dressing down otufits and wearing a dress out in the cold
- A nice silk paisley scarf
- A black blazer
- Simple flats in black, brown and beige
- Knee high boots
- Black wide belt
- Oversized sunglasses
- Beret hat
French Women Dress Femininely
Many do. This is to reflect their chic sense of style. They do it by defining their waist with a wide belt, wearing dresses, skirts, high heel shoes, and not least indulge in feminine accessories such as handbags, big sunglasses, scarves, etc. At the same time French fashion is also about injecting a mix of your personality and project your image to the world.
Hope this helps!
Thank you so much for your kind words!
Sincerely,
Products you may be interested in:
Return to Fashion Inspiration, Styles and Trends - How To's and Ideas.
How Can a Plus Size Girl Pull of the Chicness of a French Woman?
by Heidi
(Canada)
Plus Size Blazer from Macy's
I'm plus size. A lot of the things mentioned for dressing chic seem to be directed toward thin girls.

I want to look as fabulous and effortless as a French woman.

How can I do this as a bigger curvier girl?

Thanks! Sorry for all the questions! Haha



Heidi, no need to say sorry for the questions!

and the plus size woman:

I would say that the tips I provided on French fashion are actually ideal for you who is a plus size.

That's because:

1. Dark colors work well for plus size women

2. Tailored pieces such as blazers, dress pants, wrap dresses, etc. will flatter your figure because they're simple and streamline your curvy silhouette

3. Focusing on highlighting your best assets is one of the best ways to boost your confidence

and

4. Large accessories such as big sunglasses and oversized bags compliment your proportions (oversized handbags tend to empower a thin and fragile woman's body frame)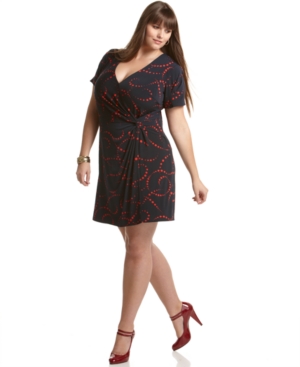 Plus Size Wrap Dress/Macy's




See?

Have you taken a look at one of the sections on women's plus size clothing and fashion advice? It boils down the essential tips and styling strategies that flatter your plus size figure.

Hope this helps!

By the way, I moved your other questions to the accessory page. Here's the link:What boots to wear for a snowy place

Sincerely,





Products you may be interested in:








Return to Fashion Inspiration, Styles and Trends - How To's and Ideas.
More Shopping & Chic Inspiration at the TCF Blog:
Also check out the Style Makeover Shop!
Back to Top
---